The Shop
I FEEL LIKE TACOS by hy8pe (I Feel Like Pablo Remix)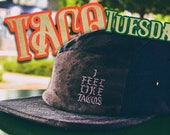 $25.00 USD
This is our first (but definitely not last) "pop-up" sale!
What better way to kick it off than with a custom two-toned denim camper (or 5-panel) hat, completely designed and branded by us.
The "I FEEL LIKE TACOS" camper hat was inspired by the "I Feel Like Pablo" gothic font (obviously) and the fact that we like tacos. It features dark blue soft denim on both panels and has the hy8pe logo in red & white on the rear right.  The middle of the hat and the brim is acid washed with hints of an even darker blue denim color. The strap is made up of peanut butter leather and topped off with a metal buckle in a vintage finish.
In all honesty, this hat was designed to match the Asics Gel-Lyte III Japanese Denim & /or the Nike Air Max 1 Royal, but of course, it's not hard to match with a denim cap.
…so for all of you fly foodie sneakerhead hy8pe beasts this hat will have a limited run & like the great Ricky Bobby said "if you're not first, you're last" so be quick.
The first round will be sold through Etsy.com, so go get yours here.